First Lesbian Relationship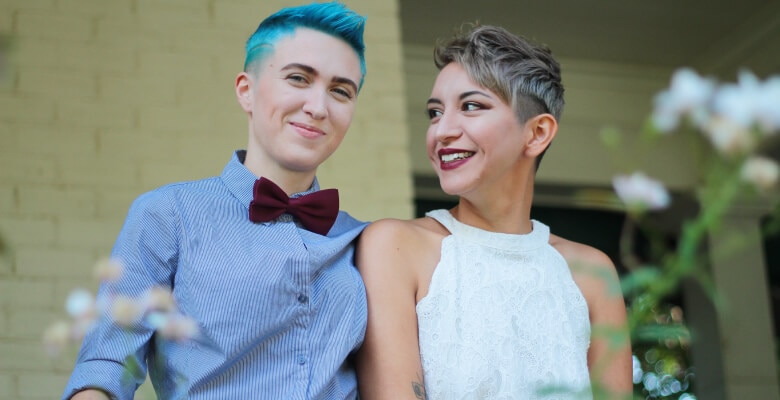 Chances are you've been in the closet for ages, and coming out has left you feeling liberated. Albeit overwhelming, you may be testing the waters as a bi-girl, and things aren't working as you'd fantasized they would. Whatever the circumstances, engaging in a lesbian relationship revolves around several dynamics, many of which are inherent in heterosexual relationships.
Dating men can be stress-filled, but dating women centers around a union flowing with emotions. So what can you expect from your first-time lesbian relationship? Your partner is likely to have more experience than you, meaning expectations may be high. Some of the ego-tripping prevalent in heterosexual relationships may be exhibited in this type of union too. Either way, your first lesbian union should leave you comfortable being you while opening your eyes to a world filled with love, passion, and understanding.
How to Engage in a Lesbian Relationship
Right off the bat, if this is your first time with a girl, at least relationship-wise, discard the notion that sex is all that matters. Setting your mind to having unprecedented levels of orgasmic sex is okay; it might happen. But that's not all to expect in a lesbian union.
A lesbian couple has to make room for quality time. Like any heterosexual union, there is a need for quiet moments to get to know each other. The opposite is okay if there is a mutual understanding that it's only a physical relationship – no feelings attached.
Stay healthy – especially physically. A lesbian union falls apart when one becomes too comfortable. Take time to exercise, change diets, and of course, awesome grooming.
It's a relationship, so make it seem like one! Cook and eat together, find common interests and vast activities aside from sex.
How to Find a Lesbian Girlfriend
It's easier said than done but well worth it. What makes it challenging is the density of lesbian singles in one area. However, you will be happy to know that online dating gives you the key to lesbian relationships.
Register for online lesbian dating on free-to-use adult sites. These adult dating sites provide safe platforms for you to meet and engage like-minded people, in this case, lesbians. You can chat with several bi or gay girls intimately and discreetly. It makes for very intimate encounters without the stress of stigma or discrimination.
Meeting through mutual connections is fun too. Ask friends or colleagues to hook you up with a friendly gay girl who is single! Your first relationship should not involve you breaking another union.
If you feel audacious enough, go bar hopping or clubbing and catch some eye candy. Depending on your city, there should be numerous bars and clubs catering to gay women in a safe environment.
How to Keep a Girlfriend Happy
Buy her flowers! Yes, similar to what you would expect if you were in a heterosexual relationship, a lesbian relationship requires sweet-nothings too. They may not be considered sweet-nothings when she receives the flowers, and the sex may be mind-blowing simply because of it. Flowers fix everything, including fights.
Remember that you are NOT buddies. Peeing next to your showering partner is not cool. Remember, it is a union like any other, and it requires some boundaries, many of which border between being open and just plain obscene.
Incidentally, there will always be fights. Fight fair, not to win but to come to an amicable decision. She'll appreciate you for it, and intimacy will increase to amazing levels.
Get to Know What Makes a Good Girlfriend
For starters, she needs to understand you are dating – not just eating each other out (excuse the visuals). A good girlfriend considers the needs of her partner, especially emotional ones.
A good girlfriend will not eye your friends, gay or straight. If she's into you, and your relationship is exclusive, there is no justification for her hitting on your friends. Her eyes should be on you – unless someone looks like they plan to steal you from her.
A good lesbian girlfriend understands your emotional needs better than any man could. She should put you as number one in her life. It means no excessive partying with other females or dudes.
Secrets are deal-breakers - hands down. Unequivocally, she should never disclose what you share intimately. She's your confidante, and it should stay that way. Ultimately, she should lend an open ear, be kind and respectful while keeping in mind your right to privacy.
Lesbian Sex Advice - What You Need to Know
Nothing puts couples off like bad smells, so before engaging in any sexual activity, check yourself. If need be, take a shower or do a body wax to remain smooth and clean.
If you experience the first-time lesbian sex, take necessary precautions like you would in any other relationship – test for STDs.
Unlike a heterosexual relationship, women know precisely what their (female) partners need. Pretend it's you, seeking pleasure from your partner. What would you like her to do?
Be willing to learn through her. Understanding what she needs is one thing, but knowing exactly how she wants it is quite another. Learn how to pleasure her, and she will reciprocate.
Gay Girls Relationship Goals
Gay girls normally seek a public relationship, not clandestine, and only to be enjoyed in bars or dingy clubs. The aim is to be happy, regardless of societal expectations, norms, or biases. Most gay girls want to have a long-lasting relationship.
For most lesbian femmes, aside from letting the world know they are gay (orientation) and gay (happy), they want to live those sentiments. It means renting an apartment together, marriage, and possibly adopting some children in the long-run.
Sex aside, a lesbian relationship will be heated from the get-go. Emotions abound for both females. Lesbian couples can experience extremely volatile moments, which in turn lead to amazingly passionate makeups and sex. A lesbian relationship has several dynamics to cater to all your psychological and physical needs.
Oh, and P.S., your periods may sync.